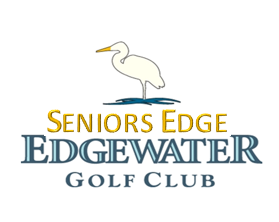 Senior Edge Terms and Conditions:
1. Senior Edge Rewards
Senior Edge Rewards is a customer loyalty program designed for Edgewater Golf Club that rewards golfers who play regularly at Edgewater Golf Club. When you enroll in the Program, you are eligible to earn rewards ("Points") on future rounds of golf at Edgewater Golf Club. 
Edgewater Golf Club may, at its sole discretion, involve third parties as "Program Partners" in the Program, from time to time. These Program Partners and the basis on which they are participating will be displayed on the applicable term and conditions.  Edgewater Golf Club may require compliance with additional terms and conditions that would affect program guidelines.
2. Program Participants Requirements
Participation in the Program is subject to these Terms and Conditions made by Edgewater Golf Club and may adopt from its discretion and changes from time to time.  By participating in the Program, you are expressly agreeing to be bound by these Terms and Conditions as they may be amended from time to time.
The Program is open to all individuals, age 55 or over, who have a valid mailing address, day-time phone number and email address. You may only enroll in the Program for yourself, and may not collect or redeem Points for anyone other than yourself. The Program is for personal use only. Corporations or other entities are not eligible to participate in the Program. The Program and your participation of Points and the granting of rewards is void where prohibited or restricted by applicable law.
When you enroll in the Program, we (Edgewater Golf Club will now be referred to as "WE") will establish recognition on your customer profile that you are a participant.  If you enroll online at Edgewatergc.com, you will receive email confirmation of your enrollment within 7 days.  You are not eligible to enroll via phone or prior to your first visit to the facility.  Enrollment and activation is required to redeem and acquire Points.
Edgewater Golf Club reserves the right at any time to limit program enrollment and may refuse at any time enrollment. At its sole discretion, Edgewater Golf Club may modify or terminate your participation, deactivate your customer profile and/or revoke or cancel all or part of your Point balance if: (i) any Points in your account are issued, received or redeemed through fraud, misrepresentation, theft or other illegal means, (ii) you are in violation of these Terms and Conditions, (iii) you abuse (physically or verbally) any of the personnel of Edgewater Golf Club,  (iv) you fail to pay for service/product rendered or payments returned for insufficient funds, invalid for any reason or your credit card payment is revoked for any reason.
You may terminate your enrollment at any time by contacting the Golf Shop at 803.283.9800.  If your enrollment is terminated either by Edgewater Golf Club or you, all unredeemed Points will be forfeited upon account deactivation.
3. Program Participant Obligations
You must comply at all times with all laws, rules, and regulations that are applicable to you. You agree to comply with all of these Terms and Conditions and the terms governing any Program Partner's offers and promotions at all times. You agree that your participation in the Program is entirely at your own risk. You are responsible for restricting access to and maintaining the confidentiality of your Program account and Name, and you agree to accept responsibility for the activities of anyone using your name. The receipt or redemption of Points may be subject to tax liability. Any tax liability, including disclosure, with respect to the receipt or use of Points, is solely your responsibility. You take the responsibility to check with your tax advisor regarding any possible tax implications. You agree that if you object to any of these Terms and Conditions, or any modifications thereof, or otherwise become dissatisfied with the Program, your only recourse is to immediately discontinue participation in the Program and terminate your enrollment.  
You agree to provide accurate information to Edgewater Golf Club at all times and to promptly notify Edgewater Golf Club of any change in your mailing address or email address by contacting the Golf Shop @ 803.283.9800
4. Earning Points
Your Name must be provided at check-in and your program status must be announced to counter staff (Whom follows the Mission Statement to Service you in the most respectful and professional manor).  If you do not announce your name and program status at check-in, you will not receive applicable rewards.   Points will not be earned prior to the date of your enrollment in the Program.
No Points will be earned for complimentary rounds, play with $0 revenue, incomplete payment (not paid in full), 'no-show' reservations or guest not associated with program.  Points will not be issued for round forfeited or not completed due to early departure, bad weather or eviction as a result of violation of golf club policies.
If at any time a Point is not redeemed during the preceding 24 month period, Edgewater Golf Club may deactivate your customer profile and, upon deactivation, your points will be forfeited. Subsequent re-enrollment does not entitle you to reinstatement of forfeited Points.
Points are awarded upon check-in and it may take up to five days for Points to be credited to your account. However, you are responsible for making sure that Points are properly credited. Any claim for Points not credited accurately must be submitted to Edgewater Golf Club Management within six months of the date of the applicable round along with all supporting documentation, including name, email address, mailing address and daytime telephone number. Please keep all of receipts for your records, as they will be required for Point adjustment requests.
5. Redeeming Points 
Points may be redeemed only for rewards offered through the Program. You may redeem Points in your account for a Green Fees and Cart Fees Monday through Friday after 10am.  You must have sufficient Points under your customer profile to redeem rewards/points.
Except where required by law, Points have no fixed or ascertainable cash value and do not constitute property of the participant. Neither the Program nor any benefit offered by the Program creates or gives rise to any legal or contractual rights by participant against Edgewater Golf Club or any Edgewater Golf Club Affiliate.  The only right you acquire in the Points is to surrender them for redemption in accordance with these Terms and Conditions.
6. Transferability 
The participation is non-transferable and is the property of Edgewater Golf Club, to whom it must be returned upon request. You may not sell, assign, make a gift of or otherwise transfer all or any part of your Points. Points are not transferable in the event of death, as part of a domestic relations matter or otherwise by operation of law. 
Only the participant/enrollee to whom the promotion is offered and issued may use the rewards/points. It cannot be assigned or otherwise transferred.
7. Modification , Suspension and Termination of the Program 
Edgewater Golf Club reserves the right at any time and at its sole discretion, with or without notice, to: suspend or modify the Program, including these Terms and Conditions, in whole or in part; to modify, limit, or suspend any Program offers and/or the use or redemption of Points in any respect; to modify or change redemption procedures, including the number of Points required for particular rewards; and to modify, limit or suspend the accrual of Points, including but not limited to imposing time limits and changes in Point values. In addition, Edgewater Golf Club reserves the right, in its sole discretion, to terminate the Program Immediately without any prior notice to all active participants or, in the case of termination where the Program is replaced by a similar program, immediately upon notice to all active participants. In the event of such a termination of the Program, Points that are not redeemed by the termination date of the Program will be forfeited and may not thereafter be redeemed. While customer has the legal right to written notice of any breach of private data, Customer affirmatively consents to accept Electronic communication as formal notice of both the suspension or modification of this program, or the loss or compromise of any sensitive private information collected through the Senior Edge Program.  This consent can be revoked at any time by sending written notice of that revoked consent to: 2380 Catawba Ridge Blvd. Lancaster, South Carolina 29720.
You should not rely upon the continued availability of the Program, or any earning, redemption, or other offers made in connection with the Program. All offers are available while supplies last, subject to any applicable cancellation policies, and are subject to change and/or revocation without notice and specifically consent to the conversion of any points upon termination to an electronic coupon equal to the smaller the value of the points, or $25, and have the coupon apply to any future purchases at Edgewater Golf.
Edgewater Golf Club reserves the right to assign its rights and obligations under the Program. Upon any such assignment, the performance of Edgewater Golf Club obligations under the Program shall be the responsibility of the assignee.
8. Limitations of Liability
BY ENROLLING IN THE PROGRAM, YOU AGREE THAT EDGEWATER GOLF CLUB, ITS AFFILIATES, AND ITS PROGRAM PARTNERS AND THEIR RESPECTIVE OFFICERS, MANAGERS, DIRECTORS, GOVERNORS, EMPLOYEES OR AGENTS (COLLECTIVELY THE "RELEASED PARTIES") SHALL NOT HAVE ANY LIABILITY TO YOU FOR ANY CLAIM, LOSS, INJURY, DAMAGE, DELAY, TRAVEL CANCELLATION, ACCIDENT, COST OR EXPENSE OR FOR ANY INCIDENTAL, INDIRECT, SPECIAL, PUNITIVE, EXEMPLARY, CONSEQUENTIAL OR OTHER DAMAGES (INCLUDING, WITHOUT LIMITATION, FOR LOSS OF OR DAMAGE TO REVENUE, PROFITS, SAVINGS, GOODWILL OR DATA) (COLLECTIVELY, "LOSSES AND DAMAGES"), DIRECTLY OR INDIRECTLY ARISING OUT OF OR RELATED TO; (I) THE PROGRAM, THESE TERMS AND CONDITIONS OR REWARDS BY EDGEWATER GOLF CLUB, (II) ANY FAILURE, DELAY OR DECISION BY EDGEWATER GOLF CLUB ADMINISTERING THE PROGRAM, (III) ANY UNAUTHORIZED USE OF YOUR INFORMATION OR ANY BREACH OF SECURITY BEYOND OUR REASONABLE CONTROL, (IV) ANY OFFER, REPRESENTATION, STATEMENT OR CLAIM ABOUT THE PROGRAM, ANY PROGRAM PARTNER OR SUPPLIER OR THEIR PRODUCTS OR SERVICES, MADE BY A PROGRAM PARTNER, SUPPLIER OR ANY OTHER PERSON OR ENTITY, (V) ANY PRINTING, PRODUCTION, OR OTHER ERRORS IN ANY MEDIUM RELATED TO THE PROGRAM, (VI) ANY DELAY OR FAILURE TO CREDIT POINTS TO YOUR ACCOUNT, (VII) ANY FAILURE TO PROVIDE PROGRAM COMMUNICATION, OR (VIII) THE PURCHASE, REDEMPTION FOR OR USE OF ANY GOODS OR SERVICES OF PROGRAM PARTNERS OR SUPPLIERS WHETHER MADE AVAILABLE BY US, ANY OF OUR AFFILIATES, PROGRAM PARTNERS, SUPPLIERS OR OTHERWISE. THESE LIMITATIONS OF LIABILITY SHALL APPLY WHETHER THE ALLEGED LIABILITY IS BASED ON CONTRACT, NEGLIGENCE, TORT, STRICT LIABILITY OR ANY OTHER BASIS, EVEN IF ONE OF THE RELEASED PARTIES OR ONE OF THEIR REPRESENTATIVES HAVE BEEN ADVISED OF OR SHOULD HAVE KNOWN OF THE POSSIBILITY OF SUCH LOSSES AND DAMAGES, AND WITHOUT REGARD TO THE SUCCESS OR EFFECTIVENESS OF OTHER REMEDIES.  Customer agrees that Edgewater Golf is not collecting any private or confidential information from them, and they agree not to provide Edgewater Golf with any information they deem to be private, confidential, sensitive or private.  We will not deliberately share their contact information with unaffiliated 3rd parties, but we have no liability for unintentional, accidental or unauthorized sharing of the information.  Further, Cyber Crime is a real risk to all business, and that no prevention methods are 100% secure.  Therefore, we have no liability for stolen contact or personal information. 
THE MAXIMUM COMBINED AGGREGATE LIABILITY OF THE RELEASED PARTIES FOR ANY CAUSE WHATSOEVER IN ANY CALENDAR YEAR ARISING OUT OF OR IN CONNECTION WITH ANY OF THE MATTERS DESCRIBED ABOVE SHALL NOT IN ANY EVENT EXCEED ONE UNITED STATES DOLLARS (U.S. $1.00).
IF ANY OF THE FOREGOING LIMITATIONS OF LIABILITY OR THE FOLLOWING WARRANTY DISCLAIMER IS FOUND TO BE VOID, INVALID, OR UNENFORCEABLE FOR ANY REASON, THEN SUCH LIMITATIONS OF LIABILITY AND/OR DISCLAIMER SHALL BE MODIFIED TO THE MINIMUM EXTENT NECESSARY TO ACCOMPLISH THE PURPOSE AND INTENT OF THE ORIGINAL PROVISIONS TO THE FULLEST EXTENT ALLOWED BY LAW AND THE REMAINING LIMITATIONS OF LIABILITY AND WARRANTY DISCLAIMERS SHALL REMAIN IN FULL FORCE AND EFFECT.
9. No Warranty 
EDGEWATER GOLF CLUB'S REWARD PROGRAM ARE PROVIDED "AS-IS", WITHOUT WARRANTY OR REPRESENTATION OF ANY KIND. EDGEWATER GOLF CLUB HEREBY DISCLAIMS ALL WARRANTIES AND REPRESENTATIONS OF ANY KIND WHATSOEVER, WHETHER WRITTEN OR ORAL, EXPRESS, IMPLIED, STATUTORY, OR ARISING BY OPERATION OF LAW, COURSE OF DEALING, COURSE OF PERFORMANCE OR USAGE OF TRADE, INCLUDING, BUT NOT LIMITED TO, IMPLIED WARRANTIES OF MERCHANTABILITY, FITNESS FOR A PARTICULAR PURPOSE, TITLE, AND NON-INFRINGEMENT, WITH RESPECT TO THE PROGRAM.
10. Governing Law and Interpretation  
Your enrollment and Point earning and redemption claims under the Program or in connection therewith are subject to our verification and acceptance, which acts shall be deemed made, performed, transacted, and closed in South Carolina, USA. By enrolling in the Program, you agree that the laws of the State of South Carolina (USA), without regard to its conflict of laws rules, will govern the Program and these Terms and Conditions, as well as your and our observance of them. The interpretation of these Terms and Conditions and any rules related to the Program shall be at the sole discretion of Edgewater Golf Club.
Contact Us
If you have any questions about these Terms and Conditions, contact:
Edgewater Golf Club, 2380 Catawba Ridge Blvd, Lancaster South Carolina 29720 (803.283.9800)